Each complete module is a corporate top-tier Storyline eLearning module ready for your rebranding and customisation.
Click through to read the specifics on each module and request to view a demo version.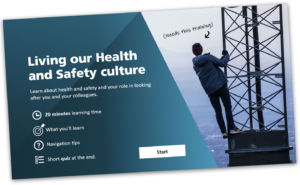 Health and Safety Culture
Modern Health and Safety is about nurturing a culture of safety, not ticking a box. This module is a strong scene-setter for building a positive health and safety culture.
Countering our Climate Crisis
Help your people understand the science of climate change, why what we do in New Zealand matters and the proactive things they can do as individuals.