Your business must protect employees from bullying. This module will help.
One in five New Zealand workers report being bullied each year. Workplace bullying can lead to drops in wellbeing, increased turnover, loss of productivity and be devastating to the individuals involved. The mental health damage from bullying is covered by the Health and Safety at Work Act 2015 – your business has to provide a workplace free from bullying.
In this module, the focus is not on training learners on the bullying complaint process. Rather, it focuses on the workplace and team culture which needs to exist in order to prevent bullying taking hold. Learners will explore the damage bullying inflicts on individuals and teams, and see ways to support victims and show bullies that their behaviour is unacceptable.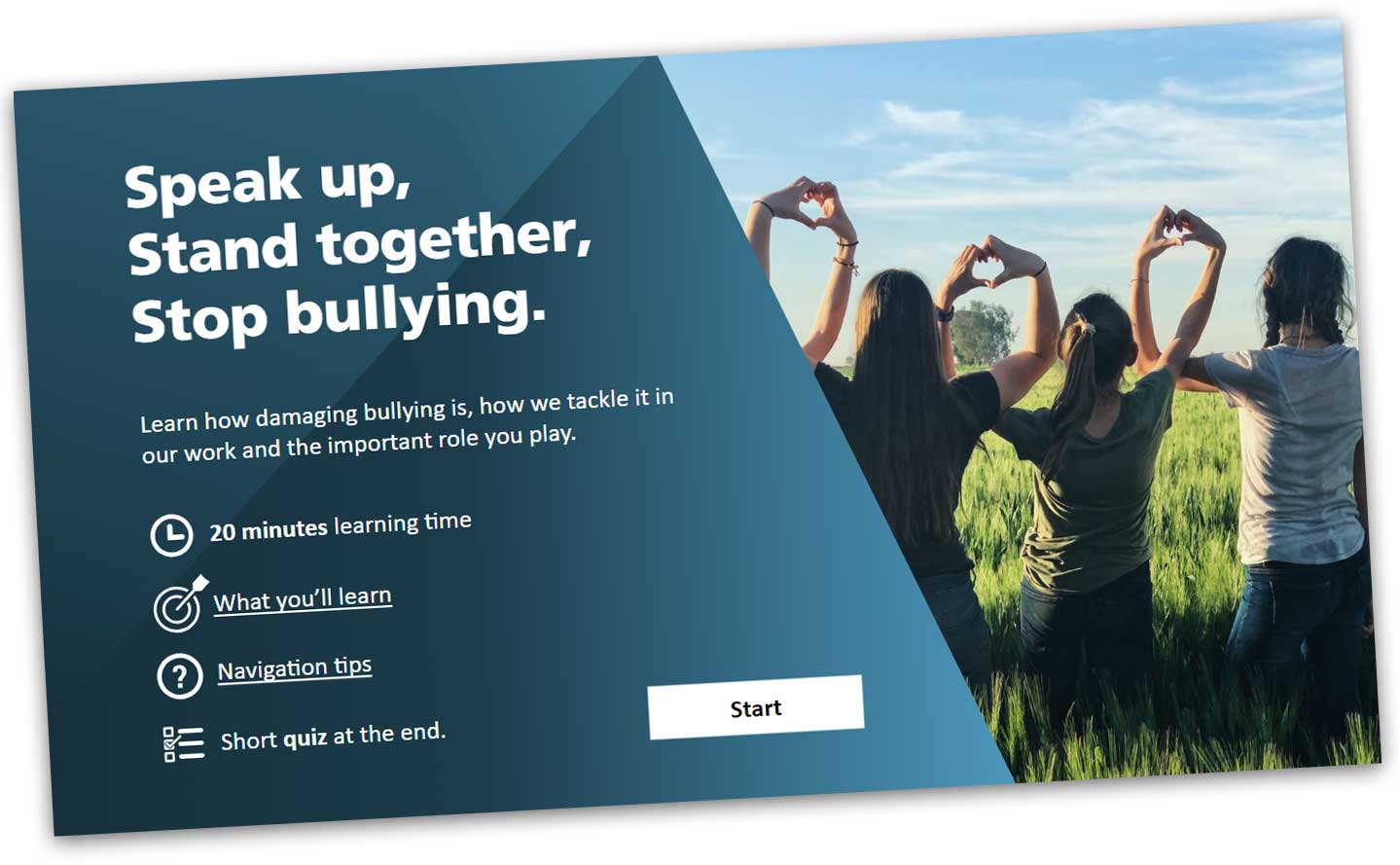 By the end of the module, your people will be able to:
Describe the effects of bullying in the workplace
Describe your commitment to ensuring there is no bullying in your business
Identify signs of bullying and harassment
Explain why its so important to not turn a blind eye to bullying
Describe how to behave to foster a supportive, anti-bullying culture
Identify methods they can use to address bullying if they're comfortable to do so
Find your formal bullying and harassment remediation process
Find further help and resources.
Anti-bullying
pledge
Learners are asked to answer a pledge: 'what will they commit to do to combat bullying?' The learner's response is logged on your LMS in the SCORM attempt data (under comments). This could be useful for HR teams dealing with bullies who have logged commitments to not bully.
Thorough illustrative scenario
Bullying situations require thorough explanation. The module follows the scenario of a new systems testing team lead being bullied by the incumbent expert. It demonstrates some of the nuance of bullying, and could be easily re-configured to suit a scenario in your business.
Special UX, design
and interactivity
Being such a feelings topic, realistic human graphics were needed. The outfits of the characters will change with your brand. The module also has unique interactivity like a card-sort (similar to in Rise).
Challenging
quiz
A challenging five question quiz focussing on desired behaviours provides assurance that your learners understand what they need to do to support colleagues and combat bullying.
Sample page: part of the flow-through bullying scenario.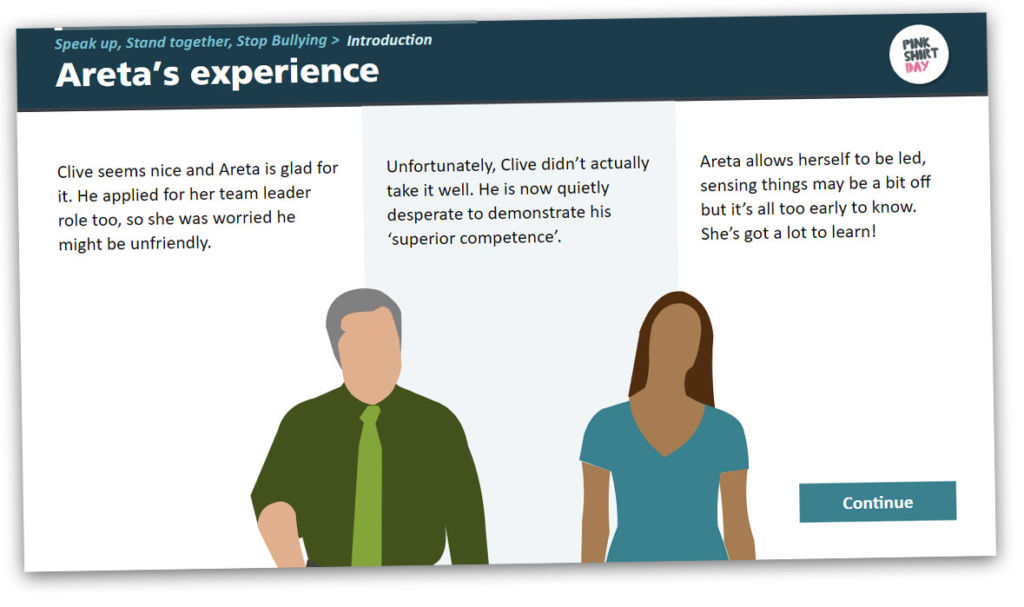 Precise and informative
– Anonymous learner
I liked how it has made me more confident in dealing with bullying/harassment situations.
– Anonymous learner
Good, clear message and content.
– Anonymous learner
Specifications
20 minute learning time
No audio or video
Easy rebranding
Storyline 360 source file