Your Code of Conduct is the
foundation of your culture.
Do you remember your organisations' Code of Conduct? Chances are it was just another form you signed before you even started your job. This is a missed opportunity to embed culture expectations with new staff and point out behaviour requirements before people breach them.
This Code of Conduct module will highlight your organisation values, then work through realistic situations linking to the relevant policies. As just part of an Induction or as an organisation-wide Refresher, highlighting the importance of your Code of Conduct will provide assurance your staff know what is expected of them and will seek guidance where they need it.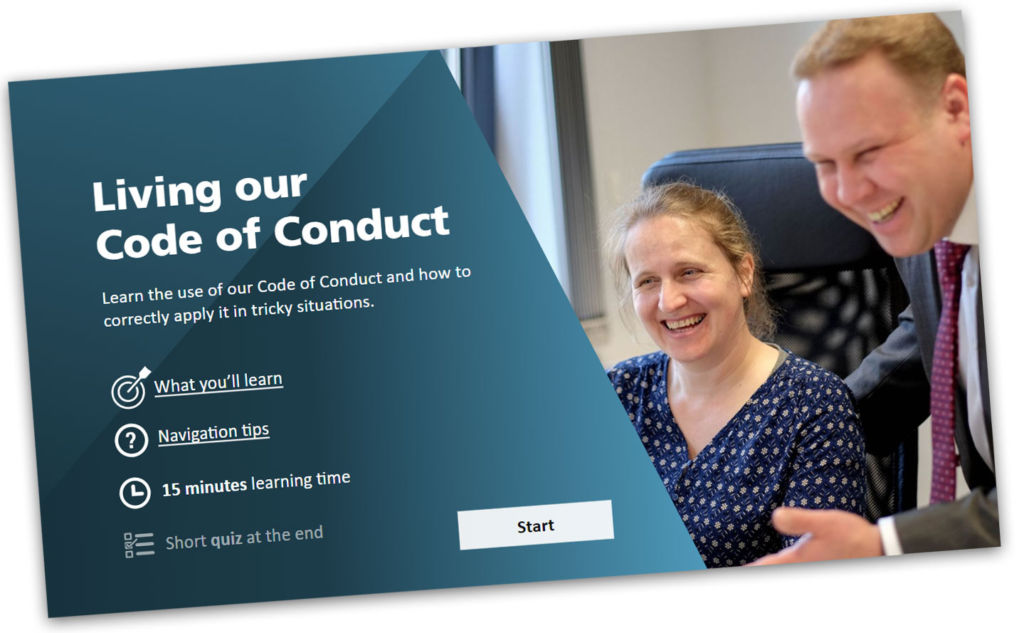 By the end of the module, your people will be able to:
Identify the benefits of your Code of Conduct
Describe the potential consequences of violating your Code of Conduct
Make decisions in-line with your Code of Conduct in common scenarios
Find related policies
Respond to potential violations of your Code
Find help and guidance if they ever need it.
Scenario
driven
The module touches on the key elements of core policies through scenarios, role-modelling expected behaviours while improving awareness.
Values
led
Organisational values are woven through the scenarios, providing realistic examples for staff to see how values are lived across the organisation.
Requires
Customisation
Codes and organisation values are unique.
This module does require customisation.
Challenging
quiz
A challenging five question quiz focussing on desired behaviours provides assurance that your learners understand their responsibilities toward the Code, for themselves and others.
Sample page: Scenario-based content. 10 questions of realistic situations that cover expected behaviour with key policies.