The weakest link in your IT security is your people. This module will help them avoid falling for scams.
Scam attacks targeted to New Zealanders increase in volume and complexity every year, yet New Zealanders by-and-large remain unsuspecting targets.
The damage from scams and sophisticated cyber-warfare escalates quickly, with Certnz reporting a 205% increase in reported scams in 2018 and $14million in financial damages. The real impact must be far beyond this.
With this module your staff can learn the importance of quality and unique passwords. They can work through scams, from the most mundane spam to sophisticated targeted spear-phishing attacks.
Give your people the knowledge and training to defend themselves from cyber fraud and cyber warfare, a threat that most New Zealanders are woefully under prepared to defend themselves against.
By the end of the module, your people will be able to:
Explain what social engineering attacks are and their potential damage
Identify their important role in preventing IT security breaches through social engineering attacks
Use key technological solutions that minimise the risk from social engineering.
Identify and respond appropriately to common social engineering attacks
Check potentially hazardous email/contact for legitimacy
Report IT risks and attacks.
Find additional help and resources.
Personalised
scenarios
Using your learner's name (from your LMS if available) the learner defends against targeted scams launched from a competitor's IT guru, making the training personalised and fun.
To-do
commitments
Learners are encouraged to improve their personal IT security. They can email what they will do to themselves, to help them remember and follow through on security improvements beneficial to both them and your business.
Complex scam
deconstruction
Learners work through identifying tell-tale signs of common scams to picking apart the suspicious elements of customised spear-phishing scams.
Challenging
quiz
A challenging five question quiz focussing on desired behaviours provides assurance that your learners understand key security ideas and what to do if they discover they're a scam target.
Sample page: Pretexting. Right panel comes in after both tabs have been visited, an example of the 'user experience' flow considerations throughout the suite.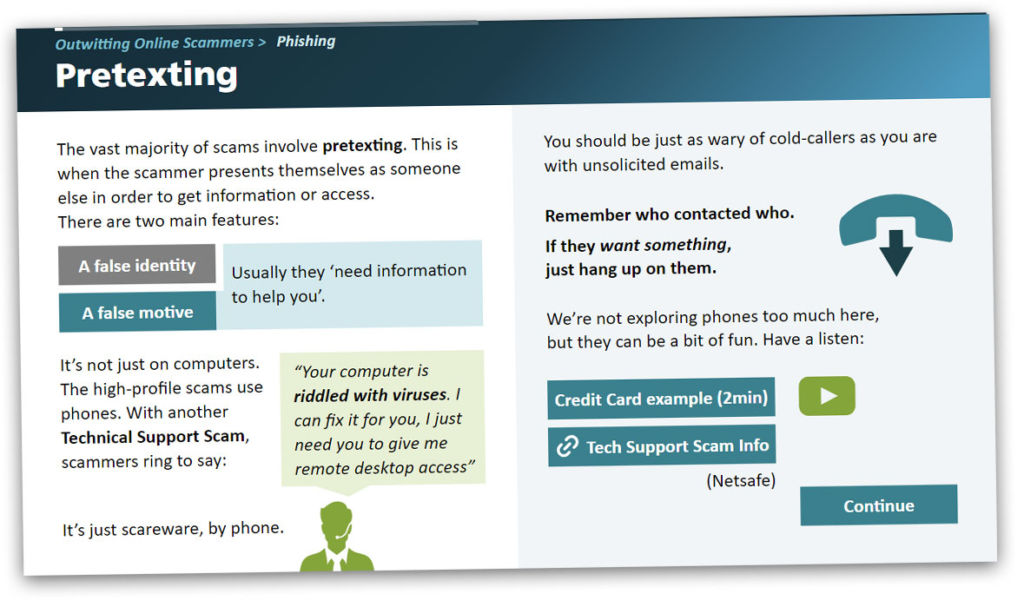 "It blew me away when I first went through it. I genuinely think it's fantastically put together and everything is highly relevant. I've been itching to include it in some sort of update and I thought there's no better time than now. Kudos to everyone involved in creating it!"
– Senior Service Desk Analyst
It was interesting to see how quickly and easy it is to fall for a spam or phishing email. I like the link to see if you have been scammed before, a bit of an eye opener.
– Anonymous learner
Specifications
20 minute learning time
Light audio and video (YouTube)
Easy rebranding
Storyline 360 source file