Remote workers can struggle with distraction, isolation, and poor communication. We can help them get the best of remote work.
Remote working is touted as a wonderful flexible opportunity – and it is – but too often we don't help our people overcome the challenges. In a 2019 buffer.com report, the biggest challenges reported were unplugging after work, loneliness, poor team and manager communication and distractions.
In 'Welcome to Remote Working', learners explore what they can do to answer these challenges in their environment, and are guided in the creation of their own Remote Work Action Plan. Give your people the training to make the most of remote working, and yourself the peace of mind that they have it.
By the end of the module, your people will be able to:
Identify the wellbeing risks in working from home and respond to them
Set up a home office work space that meets basic ergonomic requirements
Identify ways to mentally compartmentalise work from home
Identify the importance of routines for breaks, lunch, starting and ending days
Describe the importance of keeping in touch with the team and identify methods they can use
Explain how to keep clear communication and share expectations with their manager.
Personal
action

The module assists learners building a personal 'to-do list' of remote setup actions. It is not enough to read the information, the module encourages learners to do something.
Encourages
revisits
The module encourages learners to return a few weeks into their remote work to see how things are going and what they can improve further.
Continuous 
improvement
The module encourages learners to not get complacent, stay alert and continually tweak their routines and practices.
Practical
quiz
A practical five question quiz focusing on critical elements provides assurance your learners recognise positive remote working behaviour and setup.
Sample page showing the 'Add' buttons for learners' individual action plan that are alongside key ideas throughout the module.
Also showing some COVID-19 adjustments, by unpopular-but-necessary demand!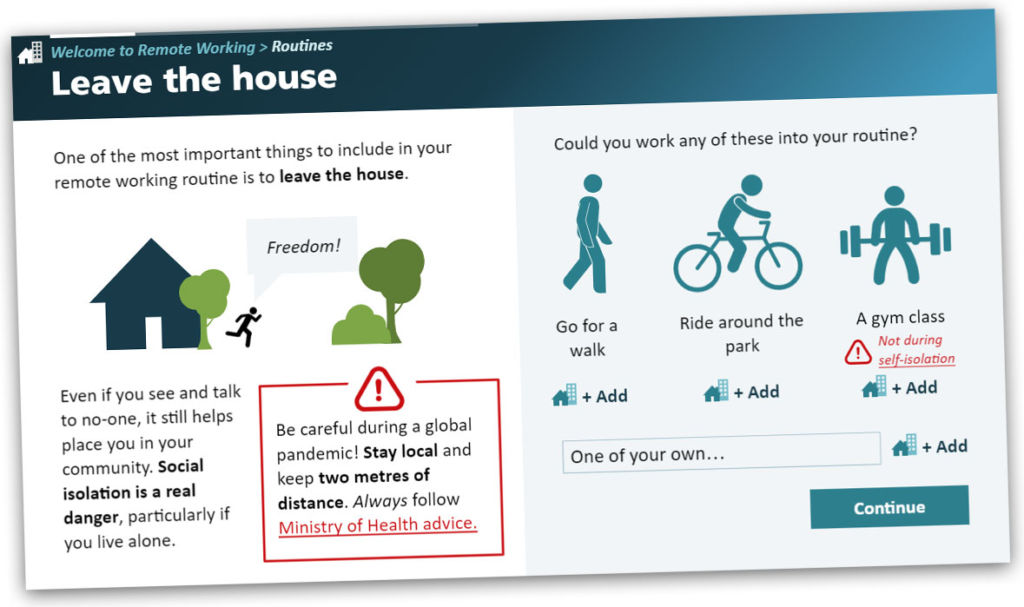 "I laughed out loud at the guy tipping over his desk chair. BRILLIANT!"
 – OD Manager
"Great coverage of the topic! Love the animations and planner tool. Spot on."
 – Learning Architect
"Your courses are
so much fun,
I really enjoyed this one."
 – Instructional Designer
"Loved the layout and content, made me smile and think about my work environment"
 – Anonymous learner
"It was brief, interactive and humorous. Brilliantly done folks!"
 – Anonymous learner
Specifications
15 minute learning time
Light audio and video (<1m YouTube)
Easy rebranding
Storyline 360 source file
View a demo version
See if this getting this fun and effective module customised for your business is right for you – get in touch to check out the demo!
Contact Larry