Remind your people of their responsibilities when working flexibly.
Your H&S reps can't do floorwalks in people's houses, and your Privacy and IT Security people can't check every home network for weaknesses or faults.
In this world of flexible working, you still need to meet your H&S responsibilities and keep your people and data safe, but the old controls of having experts handle it no longer works. You need your people to do more themselves.
Riffing off a 'Warrant of Fitness', the Warrant of Flexness is built to help this requirement. Exploring each of those core areas of H&S, Privacy and IT security as they relate to homes and public spaces, the module reminds learners of their larger responsibility to self-manage these things when flexibly working and examines key risks they're likely to encounter. The learner contributes to their own to-do remedy list throughout which they can email at the end, and a short quiz provides assurance that your people are equipped to look after themselves and your IP when out of the office.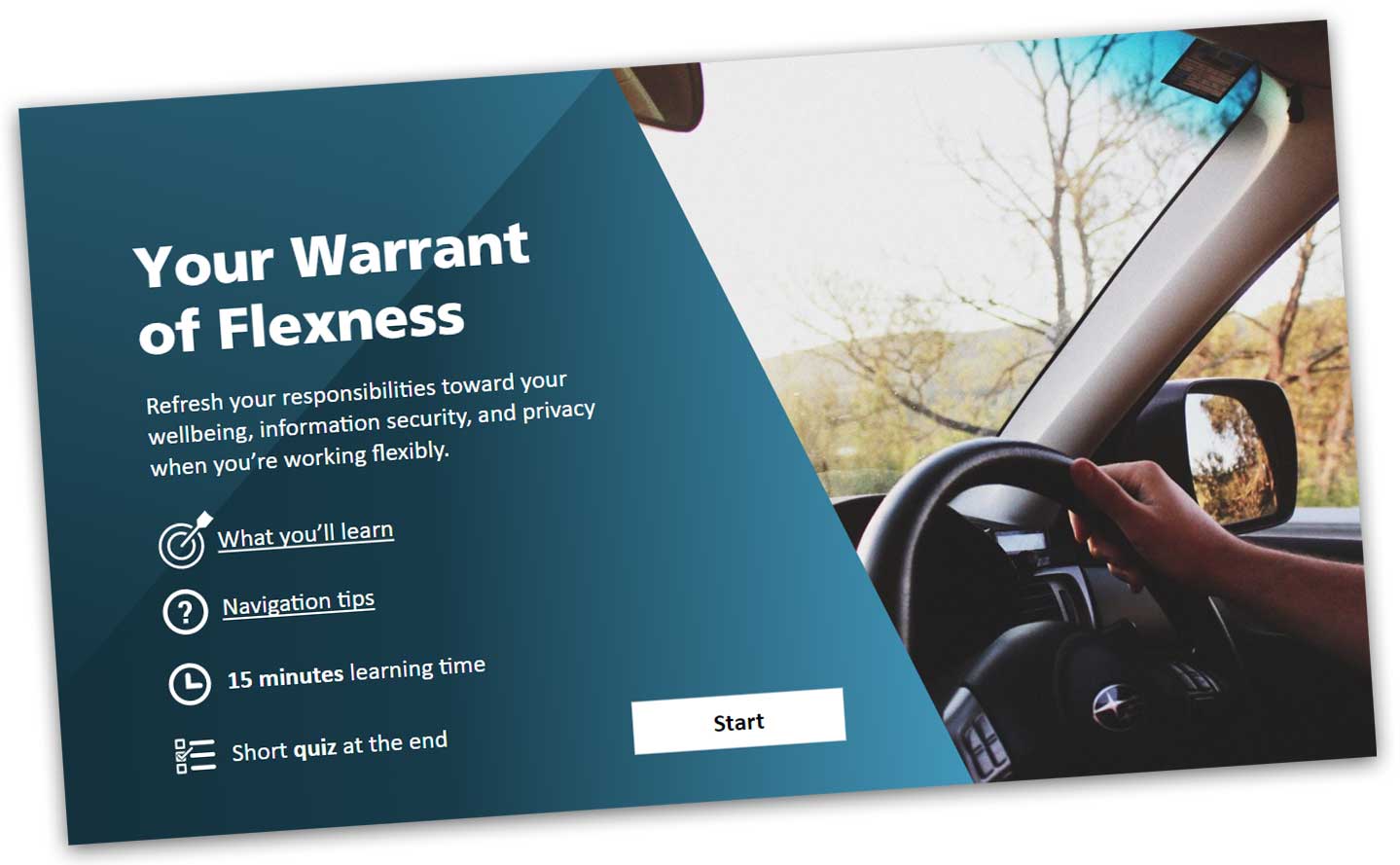 By the end of the module, your people will be able to:
Describe the key responsibilities for your organisation and themselves when they're working flexibly
Describe how health and safety, privacy and information security requirements apply in flexible environments
Perform a risk assessment in their flexible work environment
Make good decisions when faced with common health, safety, privacy and information security risks in flexible environments
Recognise near misses, incidents and concerns in flexible environments
Report and get help with near misses, incidents and concerns relating to health, safety, privacy and information security.
Seek and find further help, resources and support with any related issues.
'Certification'
focus
Module is designed like a Warrant of Fitness for a car, requiring re-certification each year/time period. It sells what is in it for the learner to do this, not just for the organisation.
To-do list
builder
Covering the most-common risks, learners are asked to consider their situation and 'star' those they should work on/do something about. They can email this to-do list at the end of the module.
Flexible
focus
Explores H&S, privacy and info security considerations specifically for flexible working situations and environments. Motivates learners to take more action, as no H&S rep will do it for them!
Quiz and
pledge
A five question 'warrant quiz' focussing on core takeaways provides assurance that learners understand their responsibilities and what to do, and a small pledge to take action on their identified risks creates buy-in.
Sample page: Encouraging learners to consider the varying levels of risk and vigilance they need to have depending on their flexible work environment.
Specifications
20 minute learning time
No audio or video
Easy rebranding
Storyline 360 source file