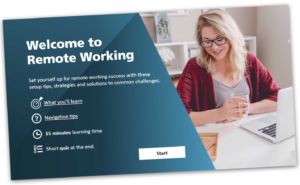 Huge numbers of us are heading home to work remotely at the moment. For many it'll be the first time they've done it for weeks on end. Whole teams, whole organisations are heading home to work – how will this impact people, team dynamics and work productivity in the long term?
I have built an elearning module to help your people tackle the biggest challenges to working remotely – distraction, isolation, communication and clear expectations. The focus is individual and action-oriented, helping them set themselves up for success and enjoy the opportunity as well as staying aware of the risks and able to respond to them.
The module is easily customised to be specific to your business. Please take a look and get in touch to arrange viewing a demo version!
Welcome to Remote Working